It's finally Fall and I'm SO excited!  I love all the seasons but I have to admit, Fall is one of my favorites.  One of the reasons I love Fall so much is because I get to create wonderful and fun Fall activities for my girls to do.
This Ghost Counting Activity is a great way to kick off all our Fall fun!  It is so easy and Grace had an amazing time doing it. It only took about 10 minutes to set up and Grace played this activity for around 30 minutes!  I know you're excited so let's get started………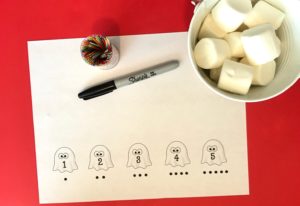 Materials
Large Marshmallows
Black Marker
Toothpicks
Directions: The first thing I did was print out the Ghost Counting Printable from the materials list.  Then I drew a ghost face on each large marshmallow.  Before I went over the directions with Grace I let her eat one of the marshmallows.  This allowed her to concentrate on the activity and not worry about when she was going to be able to eat one.  Then we went over the numbers on the ghost counting printable.  I told her she was going to build a tower of ghosts for each number.  On the printable if there was a number 2 on the ghost then she would build a tower with 2 ghost marshmallows……etc.  Then I just let her go for it.  I did not show her or tell her how to build the towers.  I wanted her to try and figure it out first.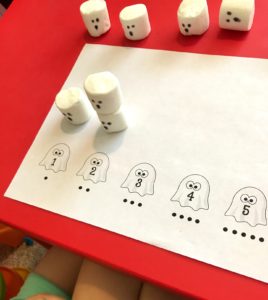 How did my daughter do with this activity
This was a great activity!  Grace thought it was so much fun not just because she was playing with marshmallows, but because she was using her critical thinking skills to build the towers.  It was so much fun watching her as the towers started to get bigger and fall down.  On the number 3 tower she started to use the toothpicks to keep the tower up.  It was awesome to see her figure that out all by herself.  Then by the time she got to the number 5 tower she discovered that she needed to build the tower a different way in order for it to stay standing.
What is she learning during this activity
Number recognition
Critical thinking skills
Fine motor skills
Problem solving
Following directions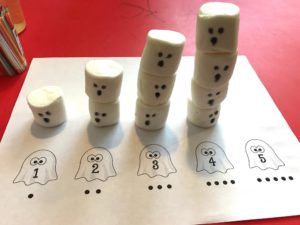 Extending this activity is so easy
There are so many things that can be done to extend this fun and easy activity.
I only had Grace do numbers 1-10. You could have your child go beyond that.
You could use other materials to build the towers.
You could have your child build towers to create their name or sight words.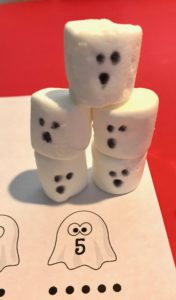 This activity was one of my favorite activities!  It was not just able learning to recognize numbers but it was about Grace learning to solve problems.  We will defiantly be doing many more fun activities like this.  I can't wait to share them all with you!  Try this Ghost Counting Activity with your child and let them show you what they can do!