Yesterday afternoon the girls and I were playing in the playroom when Grace shouted out "let's do an activity"!  Woo Hoo…………………. Grace wants to learn!  That was my first thought and I can't tell you how excited I was about that!  Then after about a minute of excitement I remembered I didn't have an activity planned for today.
In order to by a little time for me to think of something I asked Grace what kind of activity she wanted to do.  Some great ideas come from little minds.
I have to tell you I wasn't surprised with what activity she wanted to do.  She said she really wanted to do the M&M sorting activity because chocolate makes her happy.  I can't blame her, chocolate makes us all happy!  We only had one problem…………….no M&M's!  Ok, so I had to find something quickly that she could eat and do an activity with that is similar to the M&M sorting activity.  As I was looking in our pantry I spotted the colored goldfish!  Perfect solution to my problem!
I grabbed the colored goldfish and the goldfish color sorting activity was born.  It didn't take me much time to set it up and Grace really liked it.  She was engaged in active learning with this activity for about 20 minutes.  Then she spent the next 10 minutes eating the goldfish and making shapes with them.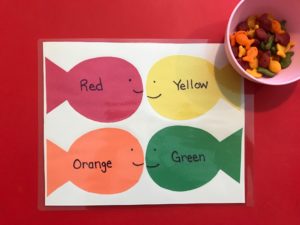 This is a super fun activity and I know you're ready to get started. So, here we go……………….
Disclaimer: This post contains affiliate links that may provide me with a commission should you sign up/purchase when clicking through. This comes at no additional cost to you and in no way impacts my opinion of these products/services.  It however does help to support this site's maintenance and fees.
Materials:
Directions: I thought it would be cute to make a colored fish mat that matched the colors of the goldfish.  It was actually very easy.  I got red, orange, green, and yellow pieces of construction paper.  I cut out fish patterns for each color.  Then I wrote the color word on each fish along with an eye and a smile.  I taped the fish to a white piece of construction paper and laminated it.  This way I can use the goldfish mat over and over again without in getting yucky.  Then I poured some of the colored goldfish into a bowl and let Grace learn!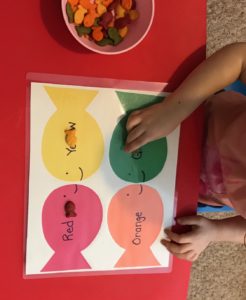 How did my daughter do with this activity?
Grace really likes this activity!  First, she told me the color of each goldfish on her mat and then she put a few of the goldfish in her mouth.  She played "one for me, one for the mat" about half the time and then just finished putting the colored goldfish on the correct color.  Once her bowl was empty she started to create shapes with the goldfish and then ate the rest.
What is she learning during this activity?
color recognition
identification of color words
object classification
Following directions
Extending this activity is so easy!
There are so many things that can be done to extend this fun and easy activity.
Patterns – have your child create different color patterns with the goldfish
Counting – after they are done sorting the goldfish you can have them count how many goldfish are in each colored pile
Graph the colored goldfish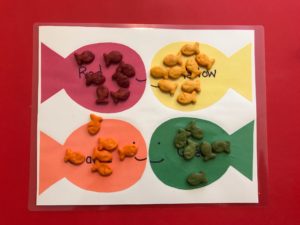 I'm so glad I was able to find an activity like the M&M color sort activity in a snap!  Sometimes as Moms we have to think quickly and improvise.  Every day is different and that's the beauty of being a parent.  I hope you enjoy doing this activity with your little one.