Summer is in full swing and it's time to have fun with water!  This name fishing activity is a great way to get outside, learn, and stay cool!
My girls love to get in the pool but sometimes it's difficult for me to watch both little ones during the day when I'm the only parent at home.  So, I decided that even though we have a pool I was going to buy a baby pool.  I love baby pools!
We were splashing around in the baby pool the other day and my one year old was having a great time but I noticed that my 3-year-old was getting bored quickly.  Time to create an activity for her to do to keep her busy and learning.  Earlier that day I found some ping pong balls in the garage and I thought I could totally do something with this!  Sometimes it takes a little inspiration and a fun activity comes to life!
This activity was so easy to set up.  It took me about 15 to get everything together and ready to go.  Grace loved it so much she played it 3 times!  She stayed busy and happy for a good 30 minutes.  I know you're excited to get started so here we go!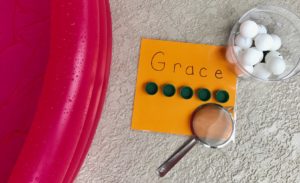 Disclaimer: This post contains affiliate links that may provide me with a commission should you sign up/purchase when clicking through. This comes at no additional cost to you and in no way impacts my opinion of these products/services.  It however does help to support this site's maintenance and fees.
Materials:
Directions: Write your child's name on the piece of construction paper.  Then laminate it.  This will make sure that the paper doesn't get wet when your child is playing this activity.  You're going to need enough water bottle caps for each letter in your child's name.  Then hot glue a water bottle cap directly under each letter of your child's name.  let that completely dry for a few minutes.  While that's drying, write each letter of your child's name on a ping pong ball with a permanent marker.  Make sure you have enough left-over ping pongs ball so that a handful are blank.  Fill up the baby pool or plastic tub with water and throw all the ping pong balls in it!  Then give your child the slotted spoon or strainer.  Show them a few times how to use it to "fish" for the ping pong balls.  Then when they "catch" a ping pong ball with a letter on it, show them how to place it on the water cap to spell their name.  Then let them have fun!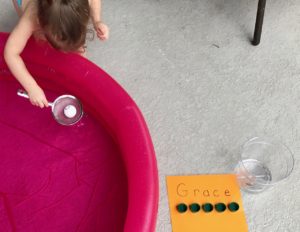 How did my daughter do with this activity?
Grace really loved this activity!  She was so excited to "catch" all the ping pong ball fish and find the letters in her name.  If she found a ping pong ball with no letter on it sometimes she threw it back in the pool and other times she put it in an empty bucket that I kept the ping pong balls in.  She played this name fishing activity over and over again for about 30 minutes!  My one year old was in the baby pool too and loved picking up the ping pong balls too.  Both kids were very happy!
What is she learning during this activity?
Sorting – she had to find the ping pong balls with the letters on them and sort them to spell her name
Name recognition
Fine motor skills – using the spoon or strainer to "fish" for the ping pong balls
Following directions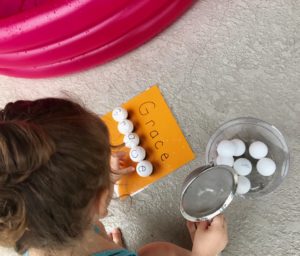 Extending this activity is so easy!
There are so many things that can be done to extend this fun and easy activity.
Patterns – draw shapes on the ping pong balls and have them create a pattern
Counting – put numbers on the ping pong balls and create counting or simple addition activities
Alphabet recognition – put the letters of the alphabet on the ping pong balls and create a alphabet activity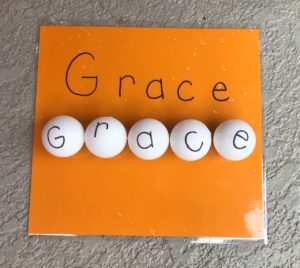 My daughter LOVED this activity and it was so fun to get a little outside water play at the same time! Have your kids do this activity and they'll stay cool this summer too!