Name recognition and practice is so important for young kids.  It's their name!  It's who they are and it's going to stick with them forever.
I really like to practice name recognition with Grace.  She gets so excited when I tell her we're going to practice her name.  There are so many different and fun ways that kids can practice name recognition.  One of my favorite way is just to grab a whole bunch of different types of letters that are in Grace's name.  Sometimes I use letter magnets, letter puzzle pieces, or stickers.  You can use just about anything as long as it spells out your child's name.
This activity was really easy to set up and Grace even helped me!  I would find a letter that was in her name and then as her to find the same looking letter in the puzzle bin or on a sticker sheet.  She loves to help and when she helps set up this activity it just reinforces her letter skills.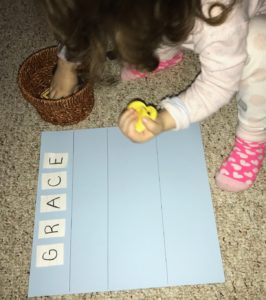 She played with this activity for about 15 minutes but didn't finish it.  She left it to draw on her white board and then she came back a few minutes later to finish it up.  If she loses interest in an activity and wants to leave before it's finished, then that's ok.  I want learning to be fun and about 90% of the time she will finish it at a later time.  Let's get started…………………………..
Disclaimer: This post contains affiliate links that may provide me with a commission should you sign up/purchase when clicking through. This comes at no additional cost to you and in no way impacts my opinion of these products/services.  It however does help to support this site's maintenance and fees.
Materials:
Directions: I wrote Grace's name on a piece of wide ruled writing paper and then cut each letter out.  I glued the letters to the top of a piece of construction paper.  Then I drew black lines to divide the paper into fourths.  Allowing room in each section for the letters to fit.  I looked around the playroom for all different kinds of letters to spell Grace and then put them in a small basket.  I ended up finding a bunch of old connect 4 pieces and put letter sticker to spell her name on them.  I went over the directions with Grace and I also went over the letters in her name several times.  Then I let her sort the different letters and place them on the construction paper to spell her name 4 different times.
How did my daughter do with this activity?
Grace really liked this activity.  Some of the letters she placed backwards on the construction paper but after she looked at it she ended up self-correcting.  It is ok and very common at this age for kids to reverse their letters.
What is she learning during this activity?
Sorting – she had to sort the different letters and match them up in order to spell her name
Name recognition
Fine motor skills – placing the letters in the correct row
Following directions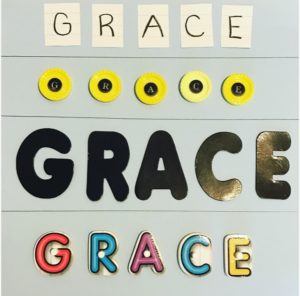 Grace really enjoyed this activity and I know your child will too!