Yesterday, Grace was running around yelling Pattern Power!  In the morning, she usually watches TV and one of her favorite shows is called Umizoomi.  It's an educational cartoon that teaches different preschool skills.  She just loves it and one of her favorite episodes in the one that teaches patterns.  I got her to stop running and yelling Pattern Power just long enough for her to take a breath.  Then she told me she was an Umizoomi and she wanted to learn about patterns.
So, I grabbed the fruit loops from the pantry, a few other things, and quickly came up with a pattern activity for her to do.  This activity probably took me 10 minutes to put together and Grace loved it!
I know you're ready to get started. So, here we go……………….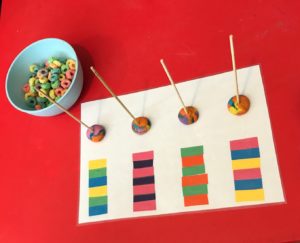 Disclaimer: This post contains affiliate links that may provide me with a commission should you sign up/purchase when clicking through. This comes at no additional cost to you and in no way impacts my opinion of these products/services.  It however does help to support this site's maintenance and fees.
Materials:
Directions: I cut small rectangular pieces of construction paper to match the pattern of fruit loops I wanted to make.  Then I arranged them on the white piece of paper towards the bottom.  Leaving enough room for the skewers at the top of the paper.  Once I had them the way I wanted them I quickly ran it threw the laminator.  This way we could do this activity again and the little rectangular pieces wouldn't move.  Once it was done laminating I made little balls with the play-doh and pushed them down at the top of the paper right above each pattern.  Then I stuck a small skewer into each piece of play-doh.  I poured the fruit loops in the bowl and I showed Grace how to complete a pattern by doing the first pattern with her.  We looked at the first pattern, went over the colors, and I showed her how to put them on the skewer.  She picked it up very quickly and off she went!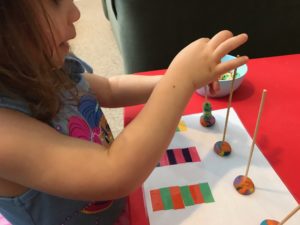 How did my daughter do with this activity?
Grace was so excited to complete this activity.  She knows her colors very well but this was the first time we did an activity with patterns.  When we were doing the first one together she started to put the fruit loops on the little pieces of construction paper before putting them on the skewer.  This was a great way for her to create the pattern before putting it on the skewer.  When she tried to put the fruit loops on the skewer without doing this she would quickly forget the patter.
What is she learning during this activity?
Recognizing patterns
Hand-eye coordination
Language development
Following directions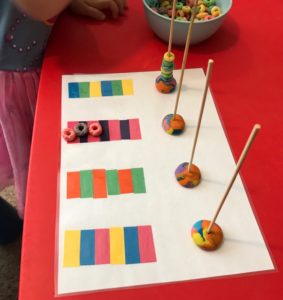 Extending this activity is so easy!
There are so many ways you can extend this fun activity!
You could make the patterns much more extensive.
Do more than just a few patterns at time
Have your child create their own patterns.
Grace played this pattern stack activity for a good 30 minutes.  After she was done completing the patterns she started to make her own patterns using the fruit loops.  I was so glad she had fun and really wanted to lean about patterns.
Sometimes you just have to create an activity on the fly and this is an easy one to do!  Try it with your kids and see how much they will love it too!