Today was one of those days…………. rainy, dark, and just yucky.  I was planning to take the girls to the park or go for a walk around the neighborhood.  Usually, here in sunny Florida the weather changes from gloomy to gorgeous in about 30 minutes but today the weather just didn't want to cooperate.
I had to come up with a backup plan before Grace realized we weren't going to play outside.  I was standing by the pantry in the kitchen, looked in it and saw my backup plan!  Snack that were baked into shapes!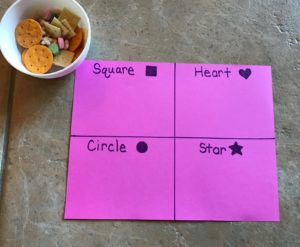 Sometime when you're a Mom you have to think quickly and be able to improvise!  I grabbed the Better Cheddars, Saltines, Puff baby snacks and some leftover heart shape candies from Valentine's Day.  I grabbed a few other things and the activity was ready to go.  Sooooo easy and Grace LOVED it!  She played for about 20 minutes and even forgot the weather was bad outside.  You are totally going to want to do this activity with your kids, rain or shine!  Let's get started……………..
Disclaimer: This post contains affiliate links that may provide me with a commission should you sign up/purchase when clicking through. This comes at no additional cost to you and in no way impacts my opinion of these products/services.  It however does help to support this site's maintenance and fees.
Materials:
Directions: I found 4 shaped snack.  You can do any shape you have in your pantry or refrigerator.  I then divided a colorful piece of construction paper into fourths by drawing lines with a black marker.  Then I wrote the names of each shape that I had snacks for on the top of each of the sections.  I also drew a small picture beside the shape names so it will be a little easier for Grace.  I put the snacks in a bowl and let Grace have fun!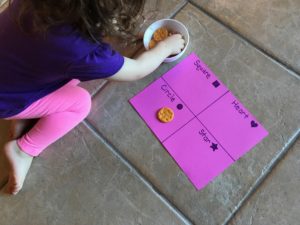 How did my daughter do with this activity?
I was so glad that Grace liked this activity!  She really enjoys sorting things and when it involves food she is even more excited.  This activity was fairly easy for her but she actually wanted to sort the snack several times.  I do plan to do this again with different shaped baked snack!
What is she learning during this activity?
Sorting Shapes
Shape Name recognition
Fine motor skills
Object classification
Following directions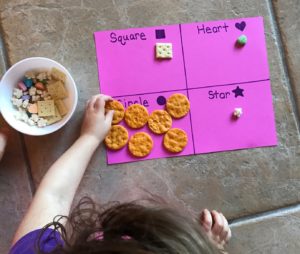 Extending this activity is so easy!
There are so many things that can be done to extend this fun and easy activity.
You can have your child sort more shapes then just 4 at one time.
You could have your child sort the shapes and then graph them on another piece of paper.
After sorting the shapes, you could have your child create a picture with the shapes on another piece of paper.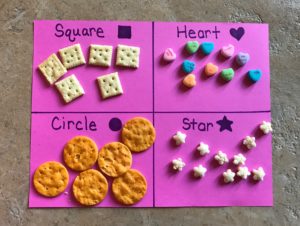 This was a great activity to do on a rainy day!  Grace was so excited that it took her mind off the fact that the weather was bad outside.  Try this shape snack activity with your kids and they are going to love it too!