Grace was so excited to do this color sorting activity!  I think it was because of the M&M's and I don't blame her.  Any activity that involves chocolate is a fantastic activity in my eyes!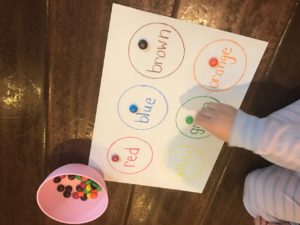 This activity was so easy to set up.  It took Grace about 15 minutes to sort all the M&M's but she loved this activity so much she asked if she could put all the M&M's back in the bowl and sort them a second time!  After I heard that I knew this activity was a winner.
Disclaimer: This post contains affiliate links that may provide me with a commission should you sign up/purchase when clicking through. This comes at no additional cost to you and in no way impacts my opinion of these products/services.  It however does help to support this site's maintenance and fees.
Materials:
(After Grace was done with this activity I laminated the piece of construction paper so I could use it for other activities)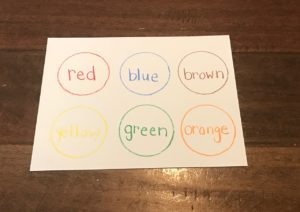 Directions: I took about a hand full of M&M's and put them in the plastic bowl.  Then I found the crayons that matched the M&M's in the bowl.  I drew 6 circles with the crayons on the white piece of construction paper.  Then I wrote the color words in each circle.  Before I gave Grace the M&M's I went over all the color names for each circle.  I told her after she sorted all the M&M's in the bowl she could pick one color and eat those.  That way she wasn't eating a whole lot of M&M's but she was still about to enjoy a few.
How did my daughter do with this activity?
This was by far her favorite color sorting activity!  Each time she put an M&M down on the correct color circle she would say the color.  She was actively engaged in this activity for about 30 minutes because she wanted to do it over and over again.  Once she was done and I asked her what color M&M's she wanted to eat and I wasn't surprised with her response.  After looking at all the M&M's sorted on the piece of construction paper for a few minutes she said "brown of course because it has a lot".  She was right!  The circle with the brown M&M's had the most in it.  She was so sweet and gave me all the yellow.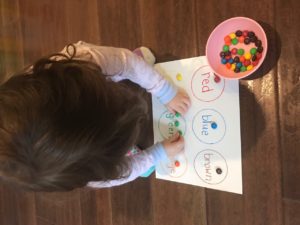 What is she learning during this activity?
color recognition
identification of color words
object classification
Following directions
Extending this activity is so easy!
There are so many things that can be done to extend this fun and easy activity.
Patterns – have your child create different color patterns with M&M's
Counting – after they are done sorting the M&M's you can have them count how many M&M's are in each circle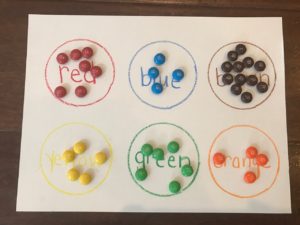 My daughter LOVED this activity and has asked to do it over and over again.  Have your kids do this activity and they'll learn to love color sorting too!